Héctor Tobar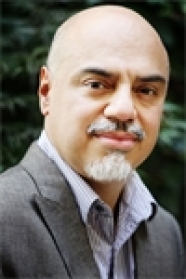 Héctor Tobar is a Pulitzer Prize–winning journalist and novelist. He is the author of the critically acclaimed, New York Times bestseller, Deep Down Dark, as well as The Barbarian Nurseries, Translation Nation, and The Tattooed Soldier. Héctor is also a contributing writer for the New York Times opinion pages and an associate professor at the University of California, Irvine. He's written for The New Yorker, The Los Angeles Times and other publications. His short fiction has appeared in Best American Short Stories, L.A. Noir, Zyzzyva, and Slate. The son of Guatemalan immigrants, he is a native of Los Angeles, where he lives with his family.
RELATED
Read Author Bio & Interview at WME Speakers
Héctor Tobar
Farrar, Straus and Giroux
MCD
In The Last Great Road Bum, Héctor Tobar turns the peripatetic true story of a naive son of Urbana, Illinois, who died fighting with guerrillas in El Salvador into the great American novel for our times.
Héctor Tobar
Picador
Picador
Now a Major Motion Picture Starring Antonio Banderas
Includes New Material Exclusive to the Paperback
A Finalist for a National Book Critics Circle Award
A Finalist for a Los Angeles...
Héctor Tobar
Picador
Picador
Antonio Bernal is a Guatemalan refugee in Los Angeles haunted by memories of his wife and child, who were murdered at the hands of a man marked with yellow ink. In a park near Antonio's apartment,...
Héctor Tobar
Picador
Picador
Winner of the California Book Award for Fiction
A Los Angeles Times Bestseller

Best Book of the Year Lists
The New York Times Book Review...