Diversity, Equity & Inclusion
Parts of the business world are leaving DEI behind. Where does that leave those who continue to do the work and those who can offer a diverse perspective through their lived experiences? It's important to remember that the work of DEI is ongoing and can never truly be "finished."
The responsibility of DEI does not fall on one or a few individuals. It's everyone's job.
At Macmillan, we realize we need to continuously strive for inclusion. Our goals are still the same, working to increase diversity in the content we produce, the authors we work with, and the talent we acquire, retain and develop.

Who we are: Representation by the Numbers
In 2021, we released our data for the first time in Macmillan's history. Data is just one piece of the puzzle. Too often, many view data as the driver of all Diversity work. We needed to understand the difference between the quantitative data that reflects our employee demographics and the qualitative data that reflects the sentiment of our workforce. Historically organizations have utilized broad methodologies for collecting data. We are using our data as a tool to highlight our areas of action rather than a showcase of performative action.
Overhauling our system
As we reviewed our data we realized our data capture was incomplete. It could have been more representative and inclusive of our entire employee population. Together with our providers, we expanded our options to ensure our community was fully represented, including but not limited to our employees who identify as transgender and non-binary. Our gender identity reporting options were expanded in the middle of 2022. As of December 2022, 19% of our population has updated their selections.
Employee Composition by Gender Identity – 2023*
Employee Composition: Management by Gender Identity – 2023†*
In 2022, we saw a 2 percentage point increase in the diversity of our workforce, including a 2.2 percentage point increase in the diversity of our senior management.
Please note that our employees who identify as biracial have the option to choose the 'Two or more races / other non-white' category in our Employee Composition by Race and Ethnicity graph. We will continue to measure, track and report significant shifts. In the meantime, the data below is a reflection of where we are today. It includes a breakdown of our U.S. Trade & Shared Services employee population by disclosed race, gender and management representation.
Employee Composition: Total Makeup Year over Year – 2021 vs. 2022**

Employee Composition by Race & Ethnicity Year over Year – 2022**
Total Makeup of Senior Management Year over Year – 2022††**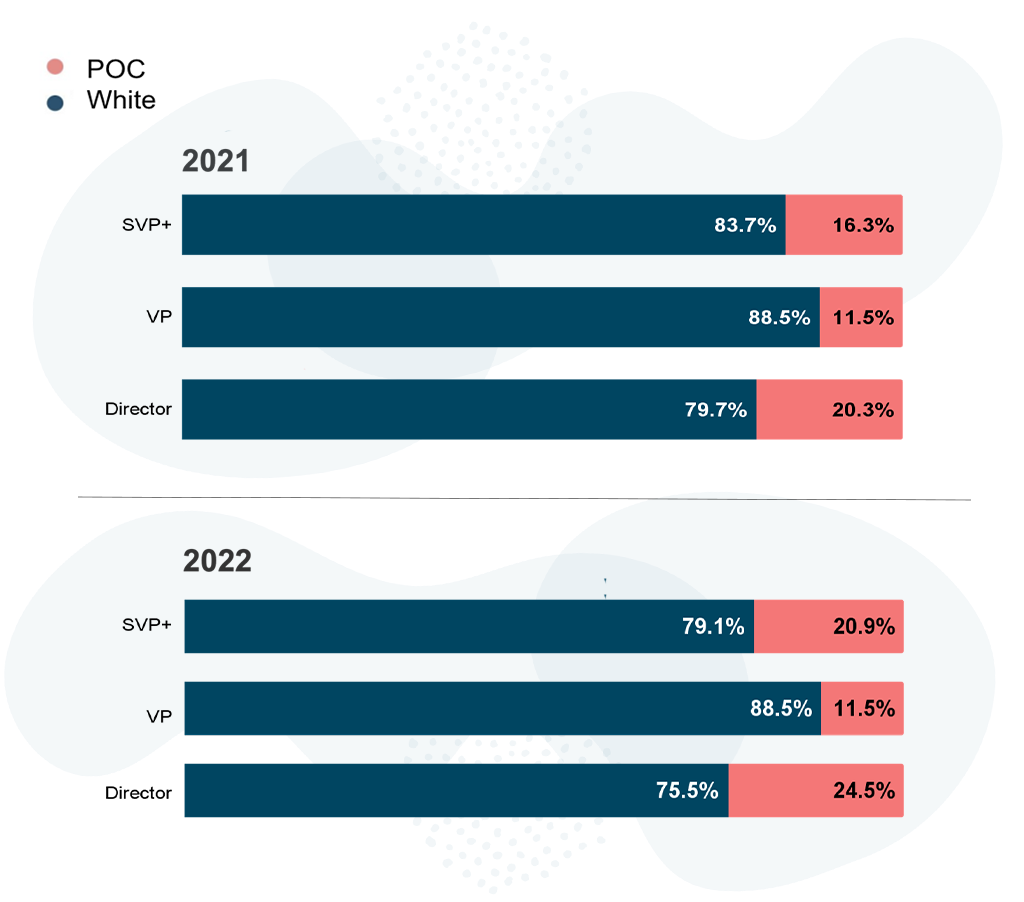 Employee's Sense of Belonging***

*Data pulled as of April 2023
**Reflects data pulled year-over-year (2021-2022)
***Reflects employee survey results as of May 2023
†Manager and above
††Director and above
How we go there: Performative vs. DEI in Action
At Macmillan, we asked ourselves how we could approach Diversity, Equity, Inclusion & Belonging in an honest and meaningful way. Were we willing to do the work needed to change our organization and ultimately our industry for the better? Were we ready to make a genuine commitment to creating a more inclusive organization? The answer was resounding and straightforward: yes.  
Our first step was to promise ourselves that we would remain committed to the work no matter how difficult and painful this journey was.
We refused to create initiatives that looked good to the outside world but lacked a true commitment to identify the resources needed to transform into the organization we desired to be. We knew that to truly embrace DEI in action, we must embed it into every part of our business.

Our Goals
We decided to be bold in our vision for the future of Macmillan. We created and are sustaining a culture of Diversity, Equity, Inclusion & Belonging that inspires people to do their best work and grow personally and professionally.
To make this a reality, we identified a core set of actionable high-level objectives that would serve as our compass:
Increasing awareness of Diversity, Inclusion & Belonging concepts with a foundation of Equity

Translating these concepts into behaviors in the workplace

Providing consistent and sustainable reinforcement and support

Embracing diversity of thought and seeking out different perspectives to build upon and enhance the knowledge of our community both professionally and personally

Strengthening our Foundation
To ensure our efforts are effective and sustainable, we will continuously identify all areas where we have an opportunity for change. From our people to the books we publish, we are auditing the foundation of our company, reviewing each of our policies and procedures, to embed DEI into each one.
To accomplish this, we cannot treat DEI as a standalone strategy — but as an integral part of the way we do business. Collectively, as an organization, we committed to embarking on this journey of inclusion by:
Establishing the Central DEI Team, charged with leading, expanding and reinforcing the organization's DEI efforts
Collaborating with the DEI Council to create effective and sustainable policies and operationalize those policies company-wide
Raising Entry-Level Salaries to help us better attract and retain talent
Conducting a Company-Wide Compensation Review inclusive of our benefit offerings
Expanding Authenticity Reader Offerings, including Workshops Company-Wide
Crafting an Inclusive Recruiting Guide to provide equitable and unbiased interviewing best practices
Overhauling our Performance Management System to ensure a fair and equitable performance management process
Conducting a Supplier Audit to assess areas for opportunities to work with a wider range of suppliers and vendors
Refocusing our Recruitment and Talent & Development Teams to provide more direct resources for recruitment, development, and retention — expanding our talent pool by identifying candidates outside of the publishing industry
Establishing Virtual Event Security Best Practices to guard against harassment
Offering a Hybrid / Remote-Friendly Pilot Work Environment to provide inclusive and equitable environments to fit the needs of each employee
Establishing our Company Values to serve as the anchor that will help us all to make thoughtful and intentional decisions
Partnering with our Communications Team to ensure thoughtful and intentional messaging is shared internally and externally regarding our efforts/initiatives

Our Values
At Macmillan, values are not just learned, they're lived. These values serve as inspiration for all those at Macmillan as we seek to publish some of the best books of our time. We will work collectively to enhance our culture while reaching — and then surpassing — our business and profitability goals in a manner consistent with these values.
Inclusivity: We strive to cultivate a diverse, equitable, and inclusive environment where everyone—from someone in a junior-level position to the CEO—feels a sense of belonging, is empowered to bring one's whole self to the workplace, and share their thoughts and ideas, while remaining accountable to the impact of their words and actions.
Respect: We treat others with professionalism and respect, assuming positive intent as we exchange in honest dialogue across our organization.
Trust: We foster a culture of honesty and trust as we show consistency between our words and our actions.
Sustainability: We aim to do less harm and more good to the Earth by actively pursuing sustainable practices to reduce and reverse the impact our business has on the environment.
Impact: We publish a wide variety of books that educate, entertain and challenge the reader. We believe in the power of books to connect people, foster innovation, amplify diverse voices, and contribute to the global conversation.

Maintaining Productive Dialogue
We embarked on a journey of open, honest & sometimes raw conversations — realizing we would have to change how we thought about each other, our business, our industry, and the world.
Some conversations were easy and filled with light and learning, and some were painful. Different points of view were presented for the first time in our company's history, but more importantly, we found that we're more alike than different. In the end, we realized that it was us, as a collective, against the issues.
Our community consists of individuals who are not only passionate about the stories we tell, but also passionate about contributing to an inclusive culture. We are taking the time to understand, talk, and debate, but most importantly, we are continuing to listen. We still have a long way to go, but today we are stronger because of it.  
Here are a few ways that we're continuing the conversation: 
Creating our Let's Talk Speaker Series that invites subject matter experts to join us in conversations focusing on social justice and its impact on us personally and professionally
Facilitating Practicing Inclusion Peer Discussion Groups to navigate challenges and learn from each others' experiences
Establishing our DEI Community Chat Room to encourage open conversations while sharing knowledge and resources across divisions within the organization
Developing The Immersion Experience, a three-phase, 12-month DEI program to drive accountability across our company
Enhancing our Mentorship Program to connect, engage and support employees
Collaborating with Employee Resource Groups and Divisional DEI Committees to strengthen partnership and organize efforts
Partnering with Employee Resource Groups to Compile Resource Guides that offer a starting place for employees to educate themselves on a variety of communities and collaborate with each other
Providing Executive Sponsorship and Funding for company-wide initiatives and efforts by ERGs and Divisional DEI Committees

Thinking Beyond Ourselves
As we continue to better ourselves and our culture, we also acknowledge the importance of thinking beyond our immediate circle. Opening opportunities to various communities will always be a priority for us — because we work better when we work together.

Here are a few ways that we're contributing:
Sponsoring Publishing Fellowship and Work-in-Progress Fellowship programs

designed to help support and create opportunities for aspiring publishing professionals and writers from a variety of communities

Partnering with Not-for-profits, Community-based Groups, and K-Grad Classes & Career Centers to strengthen relationships outside of the industry 
Offering Employee Matching Donation Programs

in support of communities in need

Adding Juneteenth as a Company-wide Holiday

and constantly thinking through new ways to acknowledge and support a variety of cultural moments

Relaunching a Remote Internship Program

to cultivate fresh talent and new perspectives while building a more robust candidate pool

Our Commitment
Our mission at Macmillan is to create and sustain a culture of inclusion and belonging that inspires people to do their best work and grow personally and professionally. Our organization is working to increase diversity in the content we produce, the authors we work with, and the talent we acquire, retain and develop. As a community, we are dedicated to this journey. Plain and simple, we have more work to do. We know that we won't get everything right, but we are determined to do this thoughtfully, together.
---

As Macmillan Publishers' first Head of Diversity, Equity & Inclusion, LaToya is an energetic leader with a track record of driving cultural change. She is a trusted advisor who brings teams together to develop highly effective programs aligned with business priorities and strategic initiatives. Before her current role, she led impactful digital and marketing campaigns for a range of global brands for the industry's most innovative and progressive agencies. LaToya is now responsible for providing best-in-class Diversity, Equity, Inclusion & Belonging capabilities and operational leadership that shapes our people and publishing programs at Macmillan Publishers.

Darlene possesses the rare combination of a diversity advocate, seasoned strategist, professional communicator, and digital & social expert. Having worked with a wide range of Fortune 500 companies across industries, primarily B2B technology, she understands what it takes to create an inclusive environment that is not only innovative, but effective and sustainable. Darlene is now responsible for continuing to evolve our DEI strategies, partnering across the organization with each division, and offering a new level of subject matter expertise that will continually elevate how we think about Diversity, Equity, Inclusion & Belonging at Macmillan Publishers.